"THE WILLIAMS 26TH NOVEMBER 2022"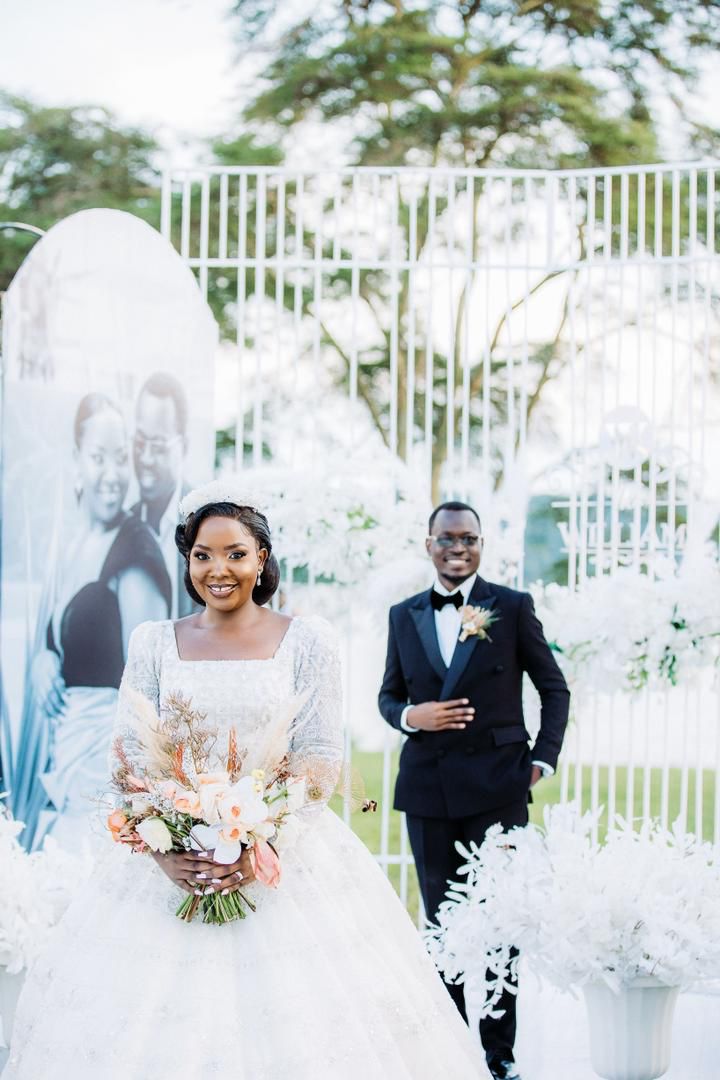 George and Evelyn's superlative white wedding was an alluring, stunning and above all a romantic white wedding which featured a white color theme including the backdrop which presented a light-hearted vibe that created a magical seating atmosphere to the guests. 
    It was at the lake shores of Lake Victoria at Peace hub gardens in Speke Resort Munyonyo presenting an overall bewildering and complex view to the eyes of the guests and other on lookers.
                                 CHURCH
    The couple said I DO at St Luke Ntinda on 26th November 2022 at 12:00pm officiated by the Rev. Canon Diana Mirembe Nkesiga
    At exactly 12:00pm, the bride walked down the aisle graced by the family of the Late Vicent Musinguzi. Filled with love and wonderful smiles from the audience, Mrs. Evelyn made it to her groom Mr. George who was anxiously waiting at the end of the aisle.
      Together they made their promises to each other in front of God.
                                 RECEPTION
    At exactly 4pm, the guests were welcomed at Peace hub gardens by lovely ushers to take up their seats as soft music played off the speakers.
    The guests were once more received by the master of ceremony as they also enjoyed wonderful music from the band as well.
    "The Williams" through Stress Free and Serene Events shall forever live to remember 26th November 2022 as their wedding was executed from concept to completion.
                               SERVICE PROVIDERS
Events planner   –   Stress free and serene events
Church   –   St Luke Ntinda
Hotel of residence –   Skyz Hotel
Hair stylist   –   Sean Mbajja
Makeup artist   –   Faith Presh
Bridal wardrobe – Fashion Episode & Dyna Vence
Photography & video – Makula Pictures
Reception venue –   Speke Resort Hotel
Decor – Renzioni
Cake   – Lush Treats
Event host   – Romantic Mukiga
Public address & Music- Infusions
Band – Under Cover Brothers
THE WILLIAMS 26TH NOVEMBER 2022