A Turqoiuse blue and Lilac themed Wedding.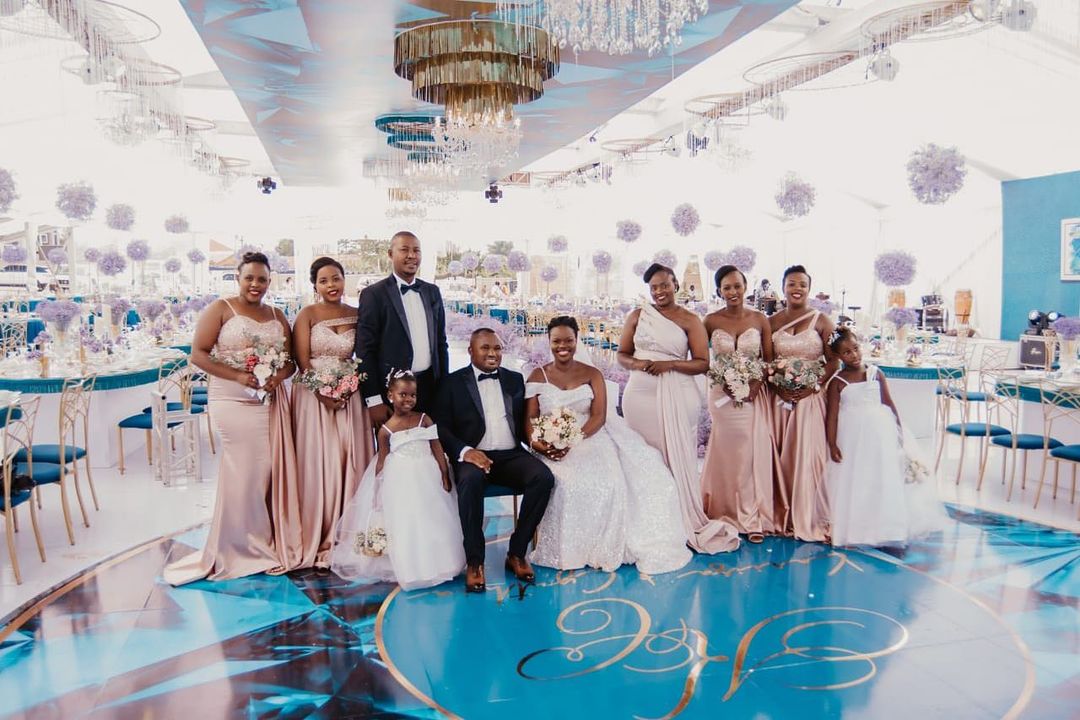 Kariisa and Cynthia were the epitome highlight of our December 2021 wedding season. It was a spectacular turquoise blue and lilac modern display in a gigantic full of skyline 30m x 45m marquee tent.
The ever smiling Cynthia wanted an elegant bougee wedding and she told me her high table doesn't have to dramatic but she wanted a classy event.
Mr Kariisa wanted a classy blue wedding and he handed over the color pallet to the fiancee Cynthia who is now Mrs Kariisa.
Walking in to Cynthia's house there was a touch on turquoise blue in everything and that was is it and we concluded with a turquoise blue themed wedding. We then opted for I Candy as our stylist because we knew she is good at executing such a peculiar and a unique touch.
With the guest list of 500people and above we agreed to hire out the two Nsambya gardens exclusively for a better service.
We planned every detail on this budget in terms of vendors, timelines, budgeting, money allocations, entertainment, food and beverages, stationery designs, bridal fittings ,give away ceremony, pre wedding shoot, wedding launch and final event management.
THE EVENT SERVICE PROVIDERS
Events Planner   –   Stress Free and Serene Events
Church   –   Uganda Martyr's Basillica Munyonyo
Hotel of residence –   Mestil hotel and residence
Hair stylist   –   Am her stylist
Makeup artist   –   Rahma shooz
Bridal wardrobe – Anita beryl conture
Grooms wardrobe   – Imported from Dubai
Photography & Video – Paramount Images
Reception venue –   Nsambya upper gardens
Design and Decor – I candy and Fenon
Cake – Abigail confectionaries.
Artists – Afigo band
Event host   – Mrs Patricia Mulumba
Cocktails – Simply cocktails
Public Address & Music – Monstey Dj  
Tents – Fotogenix
Food – Bertha catering
Invitation cards – Ribbons
Juice – Dalausi juice
Cars – Jimmy rides
Bridal maid's wardrobe – Hers Ug 
CHURCH
The couple said I DO at the Uganda Martyr's Basillica Munyonyo on 18th of December 2021 at 12:00pm officiated by Rev. Fr .Bashobora.
At exactly 12:00pm the bride walked down the aisle graced by her mother the women's Member of Parliament for Sheema District and her younger brother Jeremiah. Amidst of the lovely audience Cynthia made it to his groom Mr Kariisa who was waiting at the end of the aisle to start their happily ever after.
Together they made their promises to each other in front of friends and families and most especially in front of God.
RECEPTION
The guests were welcomed in Nsambya upper gardens where the marquee was set for lunch with a serenade of soft music going off on the speakers.
After lunch the guests were received by the event host Mrs Patricia Mulumba Agarukire alongside the famous and legendary Afrigo band. The guests were treated to a variety of iced cocktail mixtures, juice, soft drinks with a later upgrade to the hard drinks.
The guests entered with the jaw dropping expression at a site of a spectacular turquoise blue and lilac mash up graced with the touch of rose gold. The stylist adopted the blue diamond pattern reflected on the high table, ceiling and dance floor with enormous rose gold chandeliers.
The long white walk away was decorated with the lilac baby breath flowers and the tables were a mixture of mirror and blue linen representing the all touch of   class.
On our side 18th December 2021 was a full example of exquisite from concept to completion giving them a stress free and serene wedding.
FOREVER THE KARIISA'S 18TH DECEMBER 2021